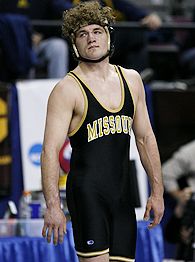 2008 U.S. Olympian wrestler Ben Askren, who just recently returned from Beijing, China from the 2008 Olympic Games, is weighing the option of entering professional mixed martial arts or working towards the 2012 Olympic Games in London, according to MMAWeekly.com.  Askren, who wrestled for the University of Missouri, is a longtime fan of MMA and looks as the level of competition in the sport as a challenge.
Askren added that should he make the jump to MMA, his fighting weight would be at 170 pounds; Askren is realistic about the move to MMA and knows he has lots to learn with Askren adding,
"I'm not going to go in the cage unprepared. I'm a worker and I'm going to work. I'm going to get good at what I do. I want to get good at jiu-jitsu, get good at striking, and I'm going to go in there prepared."
Askren's next course of action will be to attend WEC 36 on September 10 so he can get a first-hand look at MMA and how it works.