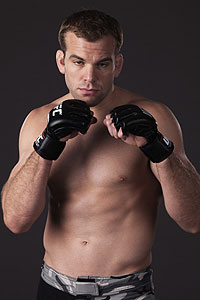 Debbie sent this in:
Call him a cockeyed optimist, but Ryan Jensen was sure that he would see another day in the Octagon. It didn't matter that he had dropped back-to-back UFC fights since his arrival in the organization, and that both losses had come via first-round submission to boot. He was determined to get one more shot – even if that meant doing things on the sly.
"I'm sure there's a nicer way of putting it other than me going behind my manager's back," says Jensen. "But it's basically what I had to do. It had been almost a year since my last UFC fight, and I knew that they were coming here to Omaha. I was guessing that someone would probably get hurt, so six weeks before the show, I called [UFC matchmaker] Joe Silva and told him I'd fight on short notice if he needed me to."
Taking matters into his own hands was a risky move, but it paid off. Jensen was one week into training with Clay Guida at Midwest Training Center in Illinois – just in case – when he got the call to replace an injured Jeremy Horn at UFC Fight Night.
It was an instant career lesson – sometimes you can't sit back and wait for a good opportunity; you have to create one.
"It comes down to supporting my family," says Jensen, who is a husband and the father to a five-year-old daughter. "If no one is going to push to get me as many fights and opportunities as possible, and they're not coming at me, then I'm happy to go get them on my own. Some guys rely on managers who promise to do big things for them, but if I hadn't picked up the phone and made that call myself, there's no telling where I'd be right now."
An inspiring tale of determination, no? There's only one hitch. Even though Jensen was back, the third time wasn't exactly a charm. Despite coming off of two wins in local shows, he was defeated yet again, this time by Wilson Gouveia via armbar in the second round. That made three consecutive UFC losses at the hands of three formidable Brazilian jiu-jitsu black belts. (Jeez, can't the guy catch a break?)
But that doesn't mean he didn't redeem himself as planned. Landing a fair share of takedowns and strikes, Jensen's overall performance cinched him a spot on the card at UFC Fight Night the following September. This would not be an opportunity he couldn't afford to squander, so in the one year and two days between his last two bouts, Jensen overhauled his routine in a major way, enlisting the help of Greg Jackson and company in Albuquerque, New Mexico.
"The best team I've worked with throughout my years of training," he says without hesitation. "They didn't change the way I fight; they just improved the way I did things. But what made them different from any other camp is the mindset and attitude. They make it fun."
Whether it was that much-needed shake-up in his regimen, a fire under his behind, or just a good day, the curse was finally broken. Slapping a guillotine choke on opponent Steve Steinbeiss in the first round, Jensen recently had his first taste of victory in the Octagon.
To say it was a long time coming would be a gross understatement. Jensen's involvement with MMA didn't start with his UFC debut in 2007, or even his first pro fight a decade earlier, but dates as far back as age 15, when he attended the earliest UFC fights to support training partner (and UFC 3 champ) Steve Jennum. It was a minor role during the sport's infancy, but one that had a profound impact on the 32-year-old. (Think about it – how many high school sophomores can say they've been part of a champion's entourage?)
"It was great to see the early shows and watch them up close," says Jensen. "And then to see how much the sport has changed over the last 15 or so years. I was just a neighborhood kid when I first stumbled into a martial arts gym, and now I'm coming on three years of fighting full-time. It's evolved so much between then and now, and in a way it's kind of cool how I've still only barely touched the surface of it in terms of the technical aspects and putting it all together."
Jensen's respect for the sport's evolution is what inspires his continual hunt for new training camps. What started with after-school sessions at the nearby martial arts studio turned into a 15-year expedition with stops at Team Quest, Miletich, and Jackson (just to name a few.) Switching things up again, Jensen is currently working at Elite Performance Gym in his hometown of Omaha, where he can stay close to family.
"It's all about seeing as much as I can and meeting as many people as I can," he says. With that, Jensen (15-4) hopes his cumulative experience will pay off on January 2, when he faces fellow middleweight Mark "The Filipino Wrecking Machine" Munoz at UFC 108.
Munoz, a former Division I wrestler from Oklahoma State, is currently 1-1 in the UFC, holding a loss via headkick by Matt Hamill and a split decision win over Nick Catone.
"I'm catching Munoz early in his career," explains Jensen, "so I think I'm a little more well-rounded. He has that high wrestling pedigree, but the transition from college wrestling to MMA looks like it hasn't been easy. Let's just say I'm not too worried about it and I know what he's going to do."
As for specific predictions, don't count on one. Maybe he's hedging his bets, but Jensen says the "W" is not necessarily the ultimate goal. There's only one thing he's aiming for this time, and that's Fight of the Night honors.
"I already know what it's like to get fired," he laughs. "Obviously I don't go in thinking its okay to lose, but I also don't think that I have to win. I'm just not looking at things in those terms. At this point, it's all about putting on a great show and fighting my ass off."