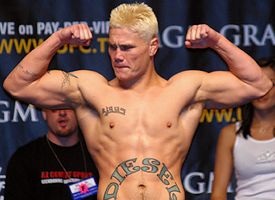 The Strikeforce: Melendez vs. Thomson event, scheduled to take place on Friday at the HP Pavilion in San Jose, CA, will still go on as planned; the event will, however, be without one of its fighters as according to Danny Acosta and Loretta Hunt of Sherdog.com, Joe Riggs has been dropped from a previously scheduled bout with Luke Stewart.  The California State Athletic Commission denied Riggs a license to fight in the state prior to Thursday's weigh-in for the event.
The Commission stated, according to CSAC Executive Director Armando Garcia, "He did not meet our medical requirements.  We hope that in a week or so we can receive the right paperwork and we can discuss and clear him to have him fight in California."  In addition, Riggs' agent, Ken Pavia, added, "Joe disclosed everything he consumed.  He had a prescription for everything.  One of them he took three days ago.  [He] wasn't sure if it was going to be in his system."  Pavia also said that Riggs provided documentation for his medication to the CSAC physician, including paperwork for a prescription pain reliever.  With this development, the Strikeforce card looks like this:
Gilbert Melendez (155) vs. Josh Thomson (155)
Bobby Southworth (204.5) vs. Anthony Ruiz (203)
Elaina Maxwell (146) vs. Miesha Tate (145)
Jeremiah Metcalf (185) vs. Raymond Daniels (184)
Chris Cariaso (135.5) vs. Anthony Figueroa (134.5)
Billy Evangelista (155) vs. Nam Phan (154)
Brian Caraway (140) vs. Alvan Cacdus (141.5)*
Cyrillo Padhillo (169) vs. Jesse Jones (169)
Travis Johnson (205) vs. Jorge Interiano (201)
Alexandre Trivino (156) vs. Eric Jacob (156)
Jose Palacios (155) vs. Bobby Stack (155)
Jesse Gillespie (186) vs. Eric Lawson (185)
*Cacdus' second weigh-in is still pending.