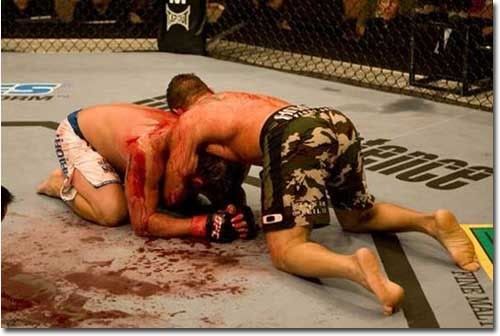 A sports journalist has one of the best jobs in the world; they get to interview both amateur and pro athletes alike and report on amateur and pro sporting events – and get paid for the privilege.  Be that as it may, one journalist attended the UFC 87 card – Tom Powers of Pioneer Press.  According to him, MMA in general is a barbaric sport, with the blood, gore and such.  Apparently, he doesn't know the first thing about MMA.  So I won't have to rant here against a clueless sports journalist, let me just give you a sampling of his opinion of the sport that you and I love:
UFC: 87 at Target Center Saturday night was quite an experience. As it turns out, mixed martial arts fighting is much different in person than it is on TV. Home viewers can't get a sense of the blood lust emanating from the stands. And they can't see the sweat and small pieces of artery flying out of the octagon.

This is the new "big thing," of course. Non-stop cartoon violence come to life for the Internet Age.

It's as vicious as cockfighting, except you can't deep fry and eat the loser on a bun. Although a lot of fighters that looked like hamburger limped past the press table after their bouts.

And those were the winners.
Oh – here's another gem:
It was very interesting. Mixed martial arts fighting might be over the top, but it's a legitimate sport. There is skill involved. The combatants blend all the best techniques of boxing, wrestling, martial arts and first-degree assault.

I've always believed that half the world is in therapy, and it's the wrong half. Well, this sport is for the other half. It's a way to release aggression, anxiety, anger and many other harmful feelings. Fans just have to watch the action and scream wildly for whichever fighter is kicking butt at that particular time. Their eyes and neck veins bulge. They lose their voice. Then they feel better.
And one more for the road:
Granted, the way we're headed, the next "big thing" in this country will be the National Decapitation League. A couple of guys will be given machetes and thrust into a steel cage. The first one to lop off the other fellow's head will be declared the winner.
Folks, these are the writings of a man who obviously did not do his homework.  He, for whatever reason, may have been hoping this was going to be like the WWE.  Tom, this is called Ultimate Fighting Championship.  Yes, blood does fly and fighters on occasion do get injured.  But that also happens in other professional sports.  And much to your surprise Tom, there are actually safeguards in mixed martial arts that are in place to ensure that the combatants are protected.  This isn't Spartacus, Tom. 
And one last thing – don't play psychiatrist and make these lame-ass diagnoses as you will find that the vast majority of MMA fans are not crazed, alcohol-fueled individuals who have bloodlust in their psyches.  They, believe it or not, are quite normal human beings.  So before you begin criticizing a sport you don't know the first thing about, do yourself and the general reading public a favor – do some homework on MMA and in particular, do some research on the UFC and specifically read about the health guidelines in place that protect the fighters.  Until you learn something about our sport, might I suggest that you stick to a sport that you have a regular beat on – whatever that may be.
OK, I'm now officially off the soap box.  If you want to read the rest of this scribe's ramblings, click here.  Also, while you're reading his drivel – if you feel like I do – I would submit that you write the editor of the paper or leave a comment at the bottom of the page where they allow comments.  I think it is time that we make this reporter for the St. Paul Pioneer Press tap out.