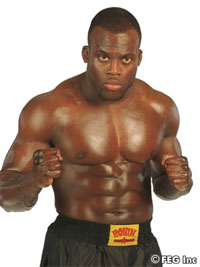 Perhaps it was the loss to Gegard Mousasi at the most recent DREAM event in Japan.  Or maybe it was the time spent away from his family.  Regardless of the reason, mixed martial arts has lost one of its shining stars as it has been learned that middleweight Melvin Manhoef has announced his retirement with Manhoef's spokesman clarifying,
"Training seven days a week and three times a day has taken its toll on his family life."
Manhoef began his storied career in kickboxing where his speed, power and athleticism got him to a 34-4 record; he then moved over to mixed martial arts.  While in MMA, Manhoef sported an equally impressive 22-5 record, defeating such notables as Kazushi Sakuraba, Fabio Silva and Evangelista Santos.  But Manhoef decided to retire at a time when family life was suffering and needed his immediate attention, which is very admirable.  Melvin, the MMA world will miss your presence in the ring; should you decide to return, I am sure the MMA community will welcome you back with open arms.