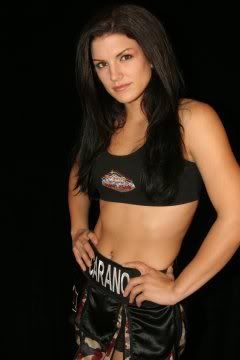 Well folks, the Kelly Kobald–Gina Carano feud has officially begun; according to our buddies over at Cage Potato, Kobald has not taken a shining to Carano, based on some of her recent comments.  By the way, if you're sensitive to salty language, then you may want to turn away.  Here's some examples:
On her physique: "I'm probably the biggest girl Gina has ever fought. I'm not tall, but I'm built like a brick shithouse. I'm pretty thick as far as that goes. I have more of a powerlifter type build. I've damn near had to cut off a leg to make 135 in my last 2 fights. My comfort range is to fight at about 150-155 pounds…I'm definitely not going to be someone that she can push around."

On her back-to-back losses: "It's unfortunate that Gina has to be the opponent that I have to face coming off of those losses because I'm coming out to win. I'm coming for blood. I'm out to validate my name and I'm looking to hurt somebody; not just win. I need to win and once she steps inside of the cage with me, my respect for her as a fighter, or lack thereof, is really not going to come into play."

On her training camp: "I have a really good training partner that has already fought Gina (Kaitlin Young)…I'm training with Brett Rogers, the heavyweight from EliteXC and Team Bison, and I'm also training with former UFC champion Sean Sherk and also Brock Lesnar at Minnesota Mixed Martial Arts Academy as well. I couldn't have a better group of people to train with."

On her match with Gina: "I'm looking for a 1st or 2nd round TKO or stoppage. Gina may be the face of MMA, but I have to say, win, lose or draw I'm going to be the pretty one leaving the cage. I plan on fucking her shit up."
To view the rest of this interview, go to: www.fighthype.com.